Upton Scudamore
---
a small village on the western edge of Salisbury Plain in the county of Wiltshire (England)
The village is recorded in the 'Doomsday Book' as Opetone: "Ralf holds Opetone from Alfred of Marlborough. Before 1066 it paid tax for 9 hides. There is land for 6 ploughs, of which 5 hides are in lordship. 2 ploughs there, 5 serfs, 9 villeins and 22 bordars with 4 ploughs. A mill which pays 20 shillings; meadow, 5 acres; pasture, 30 acres; woodland, 3 furlongs long and 1 furlong broad. The value was £8; now £9."
The village church is St Mary's, pictured below.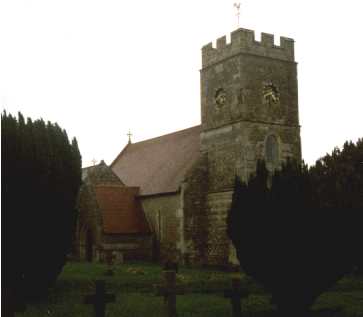 Built on the site of a smaller Anglo Saxon church, it has gone through much re-building and restoration. The tower dates from 1750 but the main restoration was completed in the 1850's. There is a Norman doorway with typical zig-zag ornamentation and also a Norman font. The chancel arch dates from 1250 and the north chantry chapel is early 14th century. The tower has four faces to its clock and in 1750 it had 3 bells, but 2 were sold to fund church repairs. The remaining one, dated 1614, was re-cast in 1882, with 2 more bells being added.
The church also gives its name to the "Scudamore organ", designed by John Baron the rector during the 1850's restoration, together with John Hall, an organ builder who lived in the village. The idea was for a simple organ with no pedals and one manual.


Original research by Sqn.Ldr.R.G.Woodman DSO DFC.
One of the other older buildings within the village is "Parks Court"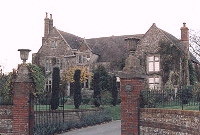 A fine view of this handsome house can be had from the roadside in the village.
The house dates from about 1350 built around a timber framed hall and seems to have been clad with stone around 1482 when some reconstruction took place. Externally the mullioned and transomed windows are the main impact feature.
The house takes its name from the De Parco family who lived here through several generations in the 15c. In the 17c and 18c the Seaman family farmed some 500 acres as tenants with the house being known as Acres Farm.
The War Department acquired the property in 1928 and it was not released until 1985 when the new owner carried out a major restoration including the reinstatement of the Great Hall.
Photograph and text c/o "Britannia"
---
An early map of the village is the Tithe map of 1839. The location numbers on the map relate to plots of land and property. The owners and occupiers of those plots may be found in the associated Tithe table.

Last Updated on 26/3/02
By Carl Daniels